03 Oct 2019
The Manchester Contemporary 2019 delivers a female-led exhibitor list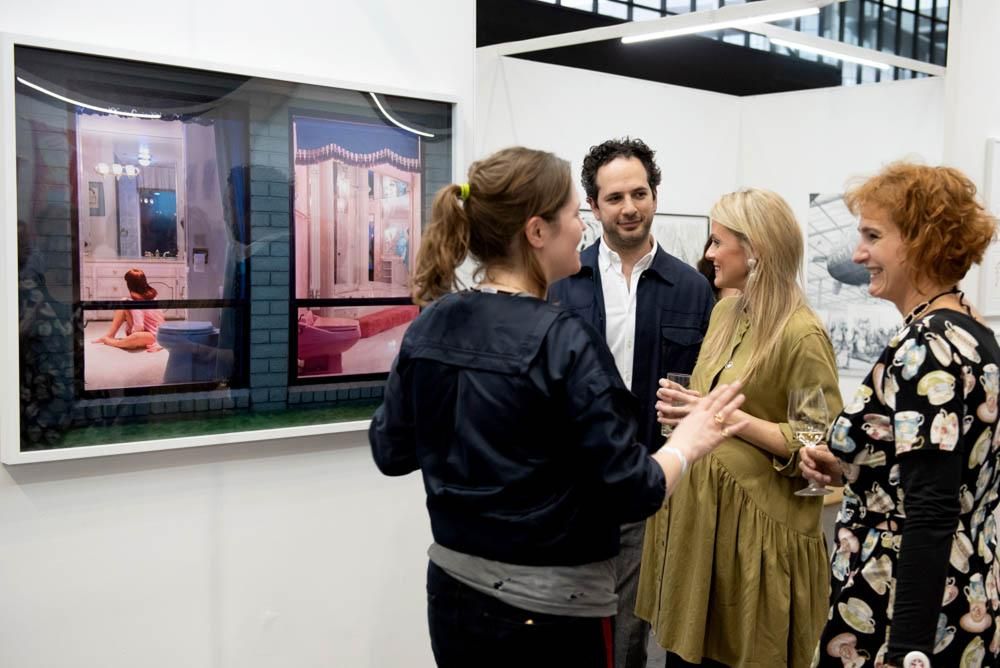 This year, The Manchester Contemporary has achieved a majority of female-led galleries and collectives for the first time.
Of the thirty galleries and collectives exhibiting at The Manchester Contemporary 2019 in October, over half are led by women. This year's exhibitor list reflects a rich history of influential, international female gallerists, as Curator of The Manchester Contemporary Nat Pitt explains:
"In the main section of The Manchester Contemporary, we are proud to support a fifty-fifty split of female to male-owned galleries for the first time. There's nothing unusual about this number on its own – except that these are outstanding and really strong gallerists. Fifty percent is really as it should be."
Pitt, the Director of Division of Labour in Salford, returns as Curator of The Manchester Contemporary for a second year. His debut show in 2018 saw the first ever introduction of international galleries to the roster, with three-quarters of the exhibitor list having never attended the fair before.
As Curator, Pitt's approach has been to bring conversations that are being had more widely into the fair. "I've been working quite closely with the Government Art Collection, an organization that has made it their policy to collect under represented female artists,'' he says. "Given that there's a lot of emphasis on female artists within the art world, I was aware of the importance of looking at things from the point of view of female gallerists too."
Among the female-led galleries and collectives exhibiting at The Manchester Contemporary 2019 is Espacio Liquido from Madrid, run by gallerist Nuria Fernandez. Espacio Liquido is presenting contemporary Spanish artist Teresa Moro, whose work is concerned with the 'relic effect' of objects owned by famous artists; her paintings delicately depict furniture and possessions belonging to artists including Ángela de la Cruz and David Hockney, exploring how this association transforms our perception of these otherwise ordinary things.
TJ Boulting returns to The Manchester Contemporary under the Directorship of Hannah Watson, bringing new works by critically acclaimed artist Juno Calypso. Hugely popular at last year's show, Calypso has since produced a series of unsettling photographs staged in football changing rooms: in one, a faceless woman stands wearing bloodied shorts and long socks against the bright pink walls that are meant to have an advantageously calming effect on opposition players.
Contemporary art gallery Narrative Projects, run by Daria Kirsanova, demonstrates its focus on conceptual work, presenting an archive of photographs by influential philosopher Derek Parfit at this year's show. Widely considered one of the most significant moral thinkers of the late 20th and early 21st centuries, Parfit's aesthetic temperament matched his rigorous intellectual approach; he obsessively photographed a select few buildings in Venice, St. Petersburg and Oxford, finding satisfaction in only around 120 photographs out of thousands of rolls of film shot either during dawn, dusk, fog or snow.
Equally intriguing is Lindsay Friend's iMT Gallery, which specialises in installation, sound art and multimedia art, and will show artist Benedict Drew's 'Trapped in a sticky shed with side chain compression'.
The full list of female-led galleries and collectives at The Manchester Contemporary 2019 comprises: TJ Boulting, Director Hannah Watson; iMT Gallery, Director Lindsay Friend; Narrative Projects, Founder Daria Kirsanova; Espacio Liquido, Director Nuria Fernández; dalla Rosa, Director Giovanna Paterno; Castlefield Gallery, Director Helen Weiwora; l'étrangère, Director Joanna Gemes; Workplace Foundation, Interim Director Julia Bell; Yo! Collective, Director Samantha Swales Snowden; Paradise Works, Co-Directors Lucy Harvey and Hilary Jack; Square Art Projects, Director Katherine Di Turi; Pink, Co-Director Katy Morrison; Venture Arts, Director Amanda Sutton; Vivid Projects, Producer Cathy Wade; Salt Road, Artist Curator Sally Payen; and Chapel Gallery, gallerist Heidi Donohoe.
Thom Hetherington, CEO of The Manchester Contemporary and Manchester Art Fair, reflects on the event's history and how much things have changed over the years: "We launched The Manchester Contemporary in 2009 alongside our existing art fair, and it has grown each year, developing a growing community of collectors in the North of England whilst supporting the region's wider arts ecology. Achieving a female-led exhibitor list is another stage in the evolution of The Manchester Contemporary, an event that I believe - alongside Manchester Art Fair - will continue to be a crucial influence in the wider arts world."
The Manchester Contemporary takes place alongside Manchester Art Fair from 11–13 October 2019 at Manchester Central. The Manchester Contemporary opens with a preview from 5pm–9pm on Friday 11 October, and then opens to the public on Saturday 12 and Sunday 13 October, 10am–6pm and 10am–5pm respectively. Tickets are available now.